2014 Reports Dedicated Advisors Keynotes Custom Services [More]
Greetings !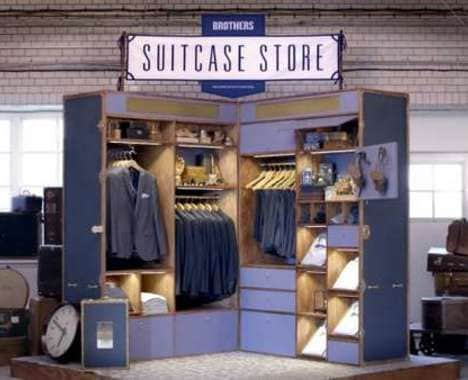 Convenient Customization
This week's PRO Trend is Convenient Customization, a sub-segment of some of our pop-up shop research. Appealing to the consumer with a packed schedule, pop-up shops and stores within stores are evolving to offer customized products as opposed to strictly set or seasonal varieties. Everything from custom clothing and meals allow busy consumers access to goods that used to require additional effort to obtain.
My favorite examples of Convenient Customization include a pop-up custom suit store within a store at Indochino and a pop-up custom t-shirt shop.
Enjoy!
Jeremy Gutsche

Chief Trend Hunter & Keynote Speaker -
JeremyGutsche.com
Modernized Infancy


A need to maintain overall aesthetics prompts more minimalist infant decor


Implications - With newborns requiring an overwhelming amount of preparation and at-home adjustments, personal tastes are often sacrificed to accommodate the chaos. Looking to provide children with... [More]
Economical Play


A desire for cost-effective rewards prompts more customized gifts for kids


Implications - As demand for materialistic rewards increases, the cost of satisfying such demands can be overwhelming, prompting parents to look for cost-effective alternatives. Seeking substitute... [More]
Convenient Customization


Pop-up shops & events evolve with custom services for fast-paced lives


Implications - Appealing to the consumer with a packed schedule, pop-up shops and stores within stores are evolving to offer customized products as opposed to strictly set or seasonal varieties.... [More]
From Pop Culture Business Acumens to Laser-Cut Designs

From Colorful Bubble Chairs to Surreal Nesting Seating

From Disco Ball-Inspired Lamps to Teatime Egg Chairs

From Sultry Celeb Editorials to Leggy Starlet Spreads

From Underworld Amusement Parks to Surreal Designs

From Shark-Saving Shirts to Brazilian Bird Ringtones

From Extreme Outdoor Hotels to Scenic Mountaineer Vacations


From Free-Shaped Homes to Reef-Like Urban Expansions


From Combustible Princess Videos to Violent Princess Street Art


From Secret Agent Cufflinks to Dangerous Male Jewelry


These Brand Keynote Presentations Examine Effective Brand Identity


These Architecture Presentations Discuss Industry Advancements


From Improving Employee Morale to Trusting Wise Employees


These Keynotes Explore the Value of Simplicity


From Pop-Up Portable Coffee Shops to Amazing Treehouse Cafes

From Breast Milk Ice Cream to Soup Broth Chip Flavors


A Paper-Based Package is More Eco-Friendly Than Plastic


From Enchanting Christmas Cups to Redesigned Pop Culture Brands


From Sugar Addict Editorials to Burger-Printed Apparel


From Fitted Caps to Five Panel Hats


From Interactive Fairy Tale Windows to Playful Pedestrian Paths

From Groovy Instrumental Home Bars to Retro Cassette Cuff Links


From Facebook Fan Counters to Social Media Shoes


From Deep-Fried Phone Protectors to Cocoa Smartphone Covers


From Animated Pop Art Apps to Interactive Home Design Apps

These 2014 CES Speakers are the Future of Multimedia


From Translucent Baby Cribs to Eggy Infant Beds


From People-Blending Beverage Ads to Canine-Concealing Campaigns


These Iridescent Garments and Accessories Are Futuristic

From Dog-Doting Linens to Illuminative Intergalactic Bedding


From Surfboard-Like Furniture to Surreal Nesting Seating


From Landscaping Storage Seats to Two-Finger Gardening Tools


From Water-Treading Bicycles to Multitasking Flying Bicycles

From Compact Contemporary Housing to Streamlined Structures


From Contemporary Art-Inspired Runways to Modern Tribal Menswear

From Gold-Plated Timpieces to Crystal-Encrusted Chronographs


From Shrub-Inspired Headpieces to Faceless Models

From Designer Stage Shoes to Sizzling Skinned Pumps


From Heroic Workout Attire to Masked Superhero Apparel


From Breaded Beads Necklaces to Floral Fabric Accessories


From Film Heartthrob Accessories to Rockstar Replica Bling


From Caped Vigilante Hosiery to Predatory Socks