D E L T A S I G M A T H E T A S O R O R I T Y , I N C . P O M O N A V A L L E Y A L U M N A E C H A P T E R
__________________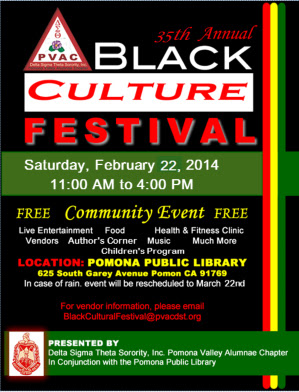 FREE

Community Event

FREE
LIVE ENTERTAINMENT

FOOD

HEALTH & FITNESS CLINIC
VENDOR'S AUTHOR'S CORNER

MUSIC

CHILDREN'S PROGRAM & more!
Special Guest Speaker:
Malcolm X's Daughter
Ilyasah Shabazz
As a memorial of her father's death, February 21st, 1965, Ilyasah Al-Shabazz releases
Malcolm X grew to be one of America's most influential figures. But first, he was a boy named Malcolm Little. Written by his daughter, this inspiring picture book biography celebrates a vision of freedom and justice. Bolstered by the love and wisdom of his large, warm family, young Malcolm Little was a natural born leader. But when confronted with intolerance and a series of tragedies, Malcolm's optimism and faith were threatened. He had to learn how to be strong and how to hold on to his individuality. He had to learn self-reliance.
Ilyasah Al-Shabazz is a community organizer, activist, motivational speaker, and author of the critically acclaimed Growing Up X . She is co-editor with Herb Boyd, The Diary of Malcolm X , worked with illustrator AG Ford, The Boy Who Grew Up to Become Malcolm X (Simon & Schuster, 2013) and with Kekla Magoon, X . Ilyasah promotes higher education, interfaith dialogue, and building bridges between cultures for young leaders of the world. She produces The WAKE-UP Tour™ and participates on international humanitarian delegations.

She is the founder of Malcolm X Enterprises and is a Trustee for The Malcolm X and Dr. Betty Shabazz Memorial and Educational Center. Ilyasah serves on the Board of the Harlem Symphony Orchestra, is a member of the Arts Committee for the New York City Opera at Lincoln Center, and a Project Advisor for the PBS award-winning documentary, Prince Among Slaves. Ilyasah holds a Master of Science degree in Education and Human Resource Development and currently resides in Westchester County of NY.

speak/book signing
photo ops only - no media interviews!!!
Pomona Public Library
Provided by: KRPR MEDIA FIRM

|

7426 Cherry Ave. 210-200

|

Fontana

|

CA

|

92336